My longtime readers know that I've been self-conscious of my skin ever since the acne days of the early- to mid-nineties (even long after the acne disappeared). I'm always on the hunt for products that could help improve the tone and texture of my skin (especially the fine lines that keep appearing out of nowhere), and I'm thrilled to have the opportunity to try out the Olay Regenerist line.
I honestly feel that you can find drug store beauty products that meet (or even surpass) the results of those found in department stores or dermatologists' offices, for a fraction of the cost. Plus, Olay is an extremely well-reviewed company, so I'm eager to give them a try. I also believe that while mixing and matching products from different companies may not hurt, using items from the same line can only be beneficial.
That said, Christmas came early on the last day of school, and I arrived home to find these products waiting for me: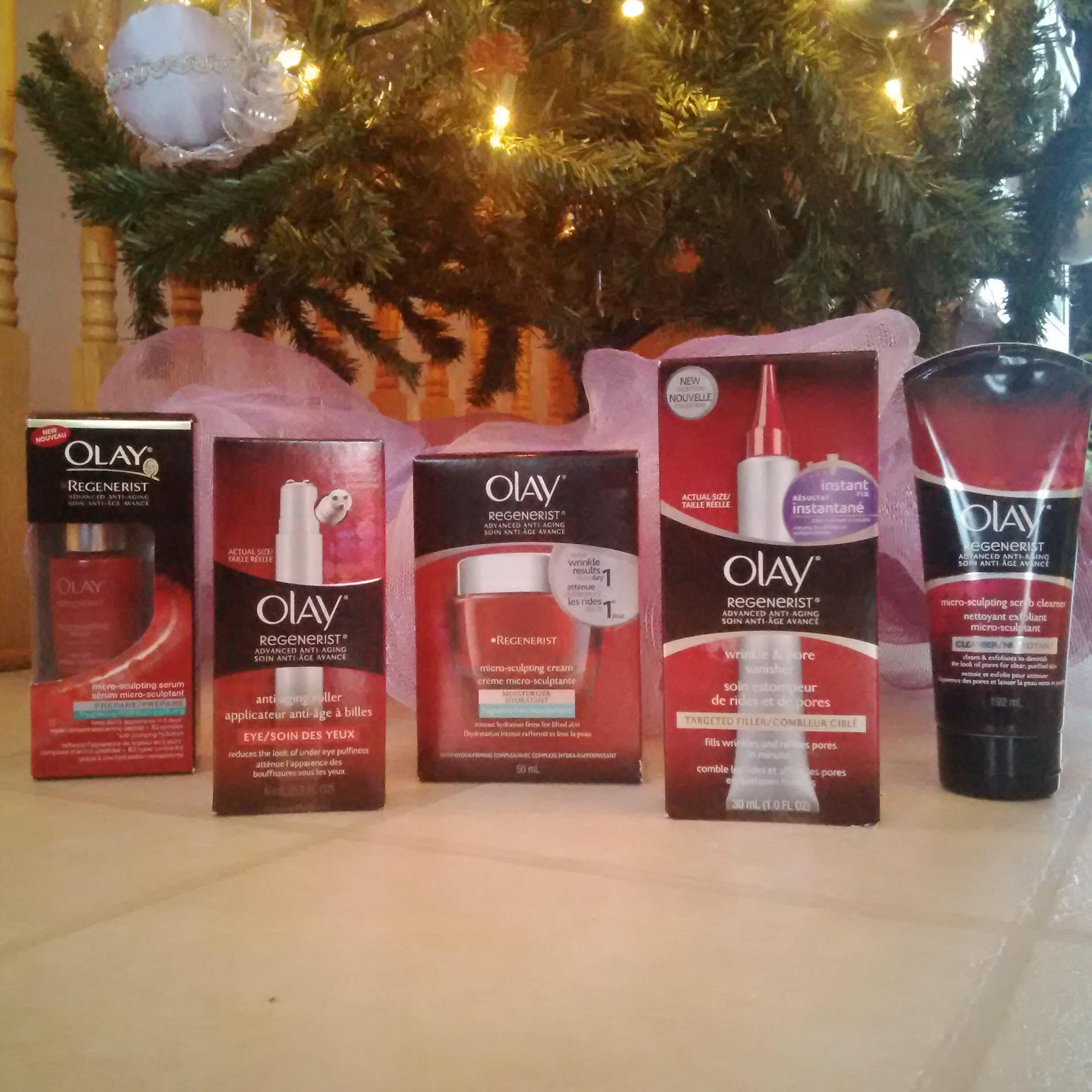 I'm hoping that the slower pace of holidays will help me get into the routine of applying products in the morning and night, in the recommended order:
1. Micro-Sculpting Scrub Cleanser (I may only use this every other day, alternating it with my tried-and-true gentle Cetaphil, as the "scrub" part might be too intense for my sensitive cheeks. When I use scrubs, I tend to go easy in that area, and put a little more effort into the t-zone.)
2. Fragrance-Free Renerating Serum (serums always go on before creams, I have learned)
3. Anti-Aging Eye Roller (click and roll – sounds like fun!)
4. Fragrance-Free Micro-Sculpting Cream
5. Wrinkle and Pore Vanisher (this one's just for daytime as it gives an instant cosmetic benefit; not available in Canada until next month)
After just one full day using Olay Regenerist, my first reactions are:
Fragrance-free is refreshing, though psychologically I think there's something about a medicinal smell to make you think that your product will be effective (or maybe that's just me!) Since I'm going to wear the products day and night, I am glad they're scent-free.(Did you know Canadian women prefer fragrance-free products more than American women do? There's your fact of the day.)
The design of the packaging is appealing to me (something I've been paying more and more attention to lately). To me it says: "This is a serious product for a grown-up woman." (As opposed to, for example, "This is a fun product for a teenager".) It would be more environmentally-friendly, of course, if there were less packaging, but as I eye the wrapped gifts for my children under the tree, I know that beauty companies aren't the first ones I want to lobby for less plastic and cardboard. At least the instructions are printed directly on the box and/or product, eliminating the use of wasteful inserts.
The Wrinkle and Pore Vanisher is a fun little product – much like spackle for the face! Apply it before going out, and it really does fill the lines and pores instantly.
I'll be back in a few weeks to give you my thoughts on the system, and the results I may (or may not) have achieved. Stay tuned!
P.S. I feel it's worth mentioning here that I never lament my skin's imperfections in front of my daughters. They certainly see the products I review for the blog, and they know I've been using some new creams, but I am very careful to keep the negative self-talk (when, on occasion, it speaks up) in my head.
Disclosure: I was provided with the above products for review purposes. Opinions are, as always, my own.