Last summer I had a fantastic experience with eyebrow microblading from Permanent Beauty By Kalyna, and I recently asked Kalyna if she'd be willing to hook me up with my first set of lash extensions to get me TV-ready for my latest segment on The Social.
She was totally on board, and I'm excited to share the details with you!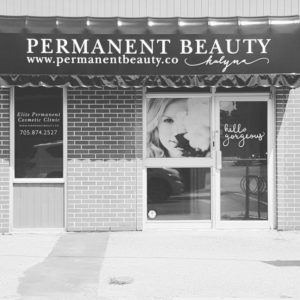 My full set of lash extensions were applied by Lash Technician Emily Poisson, who was incredibly sweet, friendly and knowledgeable. She asked me what look I was going for – natural, dramatic or in between – and I chose in-between.
The experience is actually pretty relaxing: imagine being told you have to lie down and close your eyes for two hours in a cozy room with calm music playing. Forget the lashes, it's worth the money just for the break!
Emily applied some gel pads under my eyes to protect the bottom lashes (also providing a little undereye treatment), planned out her application (as you can see in the photo) and then got to work.
Permanent Beauty By Kalyna uses high-quality silk or faux mink lashes which are applied individually. I didn't experience any pain or discomfort whatsoever throughout the process, which took just under two hours from start to finish.
The faux lashes are attached to the real ones, so as lashes naturally shed (just like the hair on your head does) the extensions go with them. The look will last 3-4 weeks, after which time you need to go for fills to maintain the fullness.
After-care is minimal (don't get them wet for at least 24 hours, brush them a couple of times a day, etc.), and you can purchase a revitalizer to use on the extensions if you're planning to maintain them. You're not supposed to wear mascara, which isn't a big deal because I don't see how anyone would need it. My "in-between" look is certainly full and dark enough!
And now, the before and after!
At work the next morning a few colleagues were looking at me in that, "What's different about you?" kind of way (I didn't help them out) but my kindergarten students didn't hesitate to share their observations. "Why are your lashes so long now?" "Where did you get the really big eyelashes?"
I will be the first to acknowledge that microblading and lash extensions are not cheap services to maintain regularly (though they're right on par with the professional upkeep of hair and nails), and since I had no real complaints about my original lashes I may not keep it up (though, aren't they pretty?) – but it's certainly a fun treat for a special event like a TV appearance! Since I was very self-conscious about my brows, those are touch-up appointments that I will keep up indefinitely. If lashes are an issue for you, or you just want some special treatment for a big day, definitely try it out! I highly recommend Permanent Beauty By Kalyna for brows or lashes – very qualified and professional with a beautiful and relaxing atmosphere and such a great team…shout-out to Melissa, my former classmate and a super receptionist!
Disclosure: I was provided with lash extensions from Permanent Beauty by Kalyna for review purposes. Opinions are, as always, my own.