As my Facebook and Instagram followers know, I just spent a whirlwind six days in London celebrating my 40th birthday with two of my BFFs (we became great friends when working together at our summer job at an insurance company throughout university). With our husbands' blessings, we left our combined eight children behind and flew across the pond for our adventure. (I was also on assignment for a Today's Bride article on a royal-themed honeymoon in London.)
I will be sharing highlights and tips for London travel over a couple of posts, and my first piece of advice for any visitor is to purchase a London Pass. While admission to many museums and galleries is free, the London Pass covers your entry to tons of other tourist attractions, and you can often bypass the ticket line and head straight inside – another bonus in a busy city.
On to today's post, where I am passing along royal destinations and tidbits from my trip to London!
Spotting Prince Harry: I can't guarantee the same experience for future London travellers, but we had a good tip about where to be (outside Westminster Abbey) to see Prince Harry arrive with the King and Queen of Spain. It was fascinating to watch the whole procedure of securing the area and stopping traffic, as well as the arrival and entry. Plus I was thrilled to get some great photos!
Tower of London/Crown Jewels (free admission with London Pass): This stop is definitely for the history buffs, and there's a lot to see here. It's also right beside the London Tower Bridge, a definite tourist highlight which has its own exhibition as well.
Westminster Abbey (free admission with London Pass): While we couldn't get inside the day of Prince Harry's visit and had to return the next day, the Abbey would be one of my highlights of the trip (though no photos allowed inside). Of course William and Kate were married here, but the architecture is incredible and the history lessons amazing. Many well-known figures, both royal and otherwise, have their final resting place in the Abbey. As a Catholic, I have a particular fascination with the England's split from the Catholic Church, and was particularly interested by Queen Elizabeth I's monument being above that of her sister Mary, who ruled just before her and had attempted to restore the Catholic Church during her reign. Inscribed: "Partners in throne and grave, here we sleep Elizabeth and Mary, sisters in [the] hope of the Resurrection".
Kensington Palace (free admission with London Pass): While William and Kate's family have residence in apartment 1A of the palace (recently undergoing a multi-million dollar renovation) the areas open to the public are much more historical, other than the current exhibit of Princess Diana's fashion, which I absolutely loved. We also had lunch at the beautiful restaurant on the property, The Orangery.
Buckingham Palace: While unfortunately not open to the public during our stay (it opens for the season on July 22nd, with State Rooms and a special exhibit of the Queen's gifts on display this year) you can walk right up to the gates for photos, and I took the opportunity to buy a special souvenir at the Royal Collection shop close by.
National Portrait Gallery (free admission): While royal portraits are only a fraction of those found at the Gallery, I am including it here as my favourite exhibits certainly shared a regal theme. However, there is a huge range of other portraits and is definitely worth taking a look at.
Spotting Kate, the Duchess of Cambridge: Yes, I had a Kate sighting! Thanks again to my source (a royal correspondent for one of London's newspapers who was kind of enough to give me tips) I was waiting outside the Natural History Museum when Kate departed after an event. Several police officers were guarding the driveway, but they needn't have worried as the crowd consisted of me on one side, and another woman with a camera on the other. At one point, I mentioned to an officer, "I won't give you any trouble. I'm just a tourist looking for a photo," to which he replied, "Well, I hope you get one!" and proceeded to let me know which way the car would be turning, and let me stand almost beside him. With officers on motorcycles at the lead and tail, the car exited, but alas, my camera was not quick enough to get a usable photo. You will have to take my word for it that I was only a few feet away. Considering many Londoners go their whole lives without seeing a royal in person, the fact that this Canadian spotted two in one day is still pretty cool to me.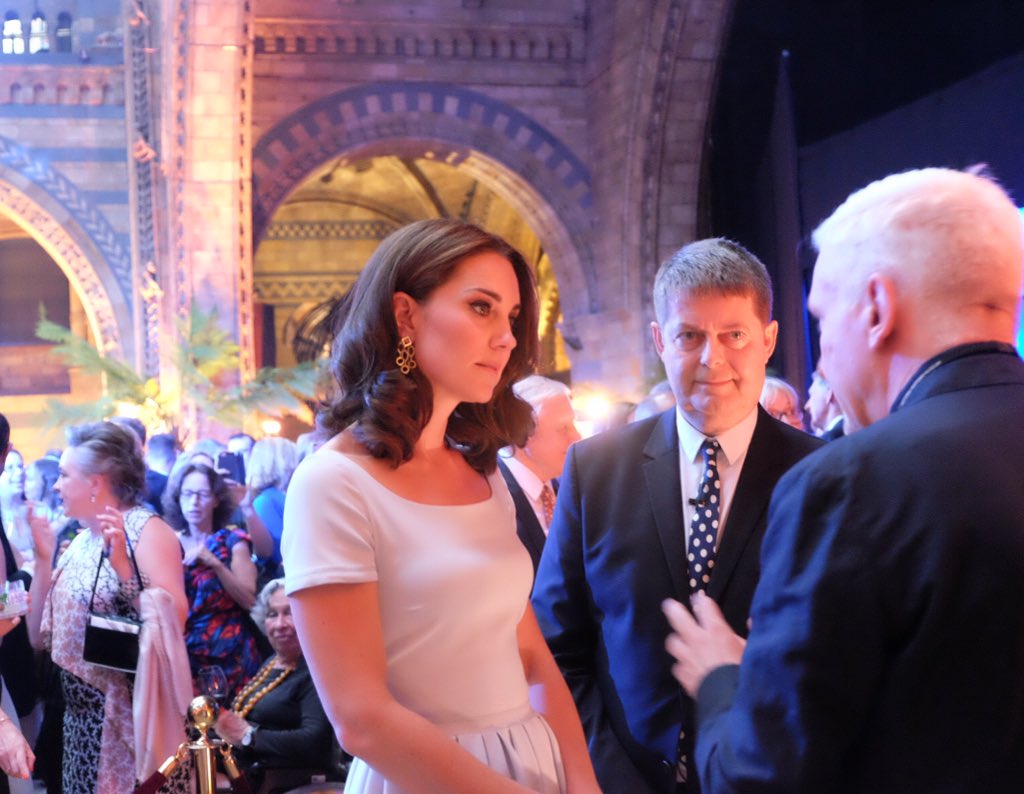 Update: it looks like the other lady waiting with me after the event was a professional photographer who got a better shot than I did!
If you have any questions at all about travelling to London, please do not hesitate to leave a comment or reach out to me through social media (publicly or privately). I would be happy to help! Coming soon: London Part II: More Highlights (less royal). Stay tuned!